Academic Programmes

Personality development Course, Spoken English Course, Tally Certification Course, Visit to Software...
Read More


News & Events

We have a team of highly qualified and experienced staff, Who are dedicated in producing outstanding
Read More

Message From
Chairman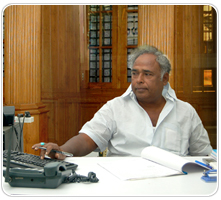 In ancient days acquiring wealth was considered to be the prime motive of life. Leading poets praised the kings and earned their livelihood. But in the Modern days Education is the prime necessity of man. Due to the globalization, the multinational corporations like IBM, WIPRO, INFOSYS, SATYAM, ACCENTURE, CTS, TCS, HCL and other fields like Research, Marketing are preferring the cream of the students community by offering lucrative placements and perks. And therefore students should raise to the high expectations of such well established concerns. If they can please Goddess Saraswathi they will be pleasing Goddess Lakshmi, inturn.
The parents are sowing the healthy seeds today to reap a bumper harvest of juicy fruits in the future. It is binding on the part of every students to realise all the colorful dreams of their parents. It is because their parents are but basis, roof and crown of their existence.
At this juncture, I quote the words of Swami Vivekananda....
"Take – Up an idea, make that one idea your life. Think of it, Dream of it, Work for it. You will attain the Goal"
And I would like to renew our commitment to serve our students and to strive for the Excellence.
Board Of Trustees
Mr. A.K. Natarajan.
Mrs.N. Geethalakshmi
Mr.A.N.Saravanan, B.A., D.C.S.,
Mr.A.N.Selvam, M.Com.,
Mr.A.N.Sankar, M.E., M.B.A., M.Sc.,(IT).,